ARRL NNY Section Home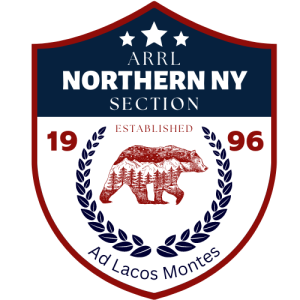 Welcome to the Internet home of the American Radio Relay League's Northern New York Section. The section is composed of ten counties within the Atlantic Division, and is divided into districts to better serve the population of amateur radio operators in NNY.
Welcome to 2023 and the Year of the Volunteer as promoted by the ARRL! As a part of the Year of the Volunteer celebration, the mystical callsign W1AW will be traveling across the ARRL. For more information on the traveling W1AW callsign, visit the ARRL VOTA mini-site. For more information on W1AW/2 NY operating times and opportunities, please visit https://w1aw.nnyarrl.org to see all the details.
Here you will find information regarding amateur radio activities and events within the section, along with relevant links. This will include clubs, individual hams, the Amateur Radio Emergency Service (ARES) and the National Traffic System (NTS). We hope to cover the entire spectrum of amateur radio activity in the NNY section!
However, to do that we need to know what you and your group are doing. Please share your announcements, articles and pictures so that we can showcase all the good things that amateur radio does in our communities and expose more of the public to this amazing hobby.
If you're looking for information and can't find it on the site, use the links on the "contact us" page, or email the website team if you're unsure who to contact- we'll direct your question to the right person.
We're working hard to update information often, so keep checking back, and remember that you can help by submitting information regarding YOUR amateur radio activity in the section!